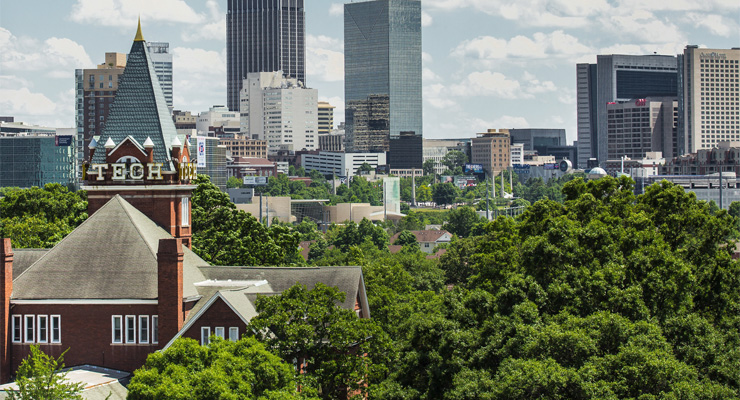 Here in Atlanta, we have a lot of trees. In fact, the National Forest Service named Atlanta's metropolitan area as one of the most heavily forested urban areas in the nation. Trees of all shapes and sizes can be found around Atlanta including varieties of elm like the winged elm, American elm and lacebark elm, pond Cyprus, American snowbell, sassafras, more than a dozen species of oak and blackgum and crabapple trees as well.
When these trees get in the way it is time to call for tree removal. Most people get the urge to trim or remove trees during our warmer months, starting about the middle of May when temperatures are averaging 70-80 degrees and all the way up until October when they start to drop past that. But you can get trees removed anytime you need to for the most part. This guide will help you understand what sort of services are included with tree removal and help you decide the best way to proceed.
What is Included in Standard Tree Removal?
Standard tree removal usually includes the chopping down of the tree, including climbing or bringing larger branches down by rope so that they can be cut and chopped into a manageable size. Some tree removal services include the hauling with their standard service, and some charge extra, but either way it is almost always included in your quote.
Additional Services That Might be Necessary
There are other services besides the removal itself that usually costs extra. One of those might be the hauling away of the tree as previously discussed but here are some others.
Stump removal (and associated hauling)
Limb chipping instead of hauling away
Log splitting to provide the customer with firewood from the tree
Travel expenses if you live in a rural or inaccessible area
Average Costs of Tree Removal in Atlanta
A standard Atlanta tree removal cost will depend upon the size of the tree. However, you can usually count on a minimum of $300, even for very small trees. Here is a guide to prices by size just so you have a general idea.
10'-25' Tall: $300 – $450
25'-75' Tall: $400-$1200
75' Taller: $1500 and up
Note: For massive trees like 75' and up, you are almost certainly going to have to pay extra for removal and it is going to be at least $1000.
Can the Average Person Remove a Tree Themselves?
In the olden days, this was a common practice. Settlers would use teams or horses or mules to pull large stumps from the ground when they need to remove a tree, and it was always chopped up into firewood. However, these days it is not only complicated and dangerous, it also requires special equipment that the average homeowner doesn't have access to. If you're tempted to try to remove a tree yourself, just remember that your hospital bills will likely be a lot more than the cost of the removal would have been.
What about Trees That Have Already Fallen?
In some cases, if a tree has already fallen, you might be able to take a chainsaw and chop it up yourself and haul it off. If it is a big tree however, you should leave it to the professionals. Here's a good rule of thumb: if you can't haul it away in the back of a pickup truck in two loads or less, call a professional.
Some Tree Types May be Quoted Differently
You should keep in mind that the type of tree it is can affect the price. For example, oak is one of the toughest trees out there and there could be a surcharge or a higher quote for removing one. On the other hand, a small pine tree is a much easier job and could be priced lower.
The Factors That Influence Price
The size of the tree
The type of tree it is (oak, pine, etc)
The condition of the tree
The diameter of the trunk
The location of the tree (and the surrounding environment)
Tree Trimming Costs
Many tree removal services also do trimming. Ask about a discount if you get both together.